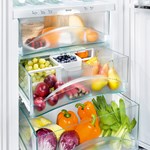 BioFresh
Fruit and vegetables, meat, fish and milk products retain their healthy vitamins, the delicate aroma and appetising appearance considerably longer at a temperature of slightly above 0 °C than in a conventional refrigeration compartment.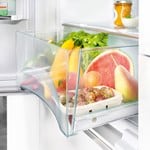 Drawers mounted on telescopic rails
The drawers extend on smooth-running telescopic rails and can be conveniently removed at a door opening angle of 90°.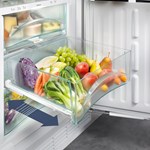 SoftTelescopic
All BioFresh safes and pull-out compartments fitted with SoftTelescopic feature a convenient self-retracting system with gentle SoftSystem, making everyday use practical and safe.They can be completely pulled out and removed even at a door opening angle of 90°.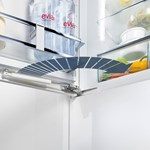 SoftSystem closing mechanism
The SoftSystem closing damping is comfortable and highly practical in everyday use. When the door is closed, the SoftSystem integrated in the door damps the movement and ensures particularly soft closing even when the door interior is fully loaded. On built-in devices the door closes automatically from an opening angle of around 30°.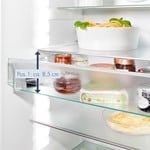 VarioSafe
The VarioSafe helps you to be organised and offers a clear view of the items stored inside. It is the perfect place to keep smaller items, e.g. packets, tubes and jars. This drawer can be positioned at various levels on the light columns.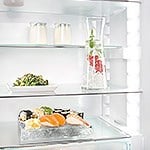 LED light column
LED light columns on either side evenly illuminate the entire refrigerator interior. The lighting gradually brightens when the door is opened and a special satin finish on the light cover creates an elegant lighting ambience. The light columns are designed to allow the position of the glass shelves to be adjusted.