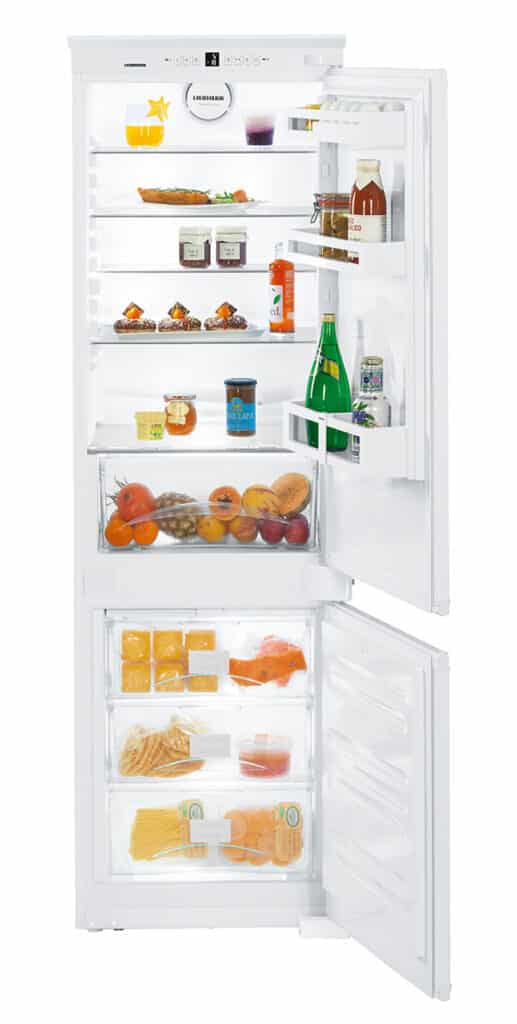 Liebherr 56cm Built-in Fully Integrated Combined Fridge and Freezer
With Liebherr 56cm built-in fully integrated combined fridge and freezer, anyone committed to the highest quality cannot accept compromise. Liebherr uses expertise to guarantee premium-quality products and has done so for more than 60 years. The 56cm built-in fully integrated combined fridge and freezer impress with intuitive operation, energy efficiency, classic design, and a multitude of practical functions geared to ensuring that food retains its freshness and quality, and so to facilitating a healthy, modern lifestyle.
Fully integrated fridge freezer with Bio cool and an energy rating of A++. It has the latest features from Liebherr including:
BioCool – The Bio Cool-Box can be regulated using a slider control so that the freshness of fruit and vegetables stored in the refrigerator compartment can be preserved for longer.
NoFrost – NoFrost appliances provide expert refrigeration technology to ensure long-term freshness of frozen food the compartment is chilled recirculating air, and any humidity is expelled resulting in a freezer always free of ice, and food no longer frosts over.
DuoCooling – Accurate and independent temperature control of the refrigerator compartment and freezer compartment of combined fridge-freezers is achieved through DuoCooling with two completely separate cooling circuits.
Egg Tray – Extendible design of the adjustable egg tray makes it suitable for safely storing up to 20 chicken eggs, its recommended that you store eggs with their pointy end down to extend their shelf life, or that you place the egg tray within the BioFresh drawer's FlexSystem.